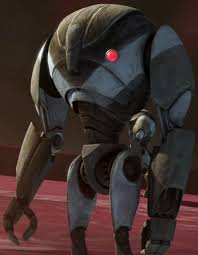 The B2-RP Super Battle Droid was a B2 Super Battle Droid version created by the CIS during the Clone Wars. It had a small jet pack placed on the droid's back and was also painted black and blue. This droid was first used to capture jedi padawan, Ahsoka Tano and Clone Captain Rex on the planet Gwori. Over 100 B2-RP droids were later used during the Battle of Quell by the T-Series Tactical Droid, TF-1726 to destroy the Republic Star Destroyer, The Liberty. However all these droids were destroyed when TF-1726 destroyed the Star Destroyer, ignoring the fact of the 100 B2-RP droids still onboard the ship. At some point in the Clone Wars, the droid was upgraded to a mark 2 version a few months prior to the Battle of Ringo Vinda.
Community content is available under
CC-BY-SA
unless otherwise noted.